Señora Sanasana (Hardcover)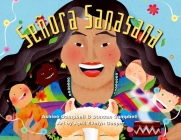 $17.99

Not currently on our shelves, but available to order (usually within a few days)
Description
---
Written in English-Spanglish (with a glossary included!), this charming and nostalgic book will transport readers back to their childhoods, evoking fond memories of a beloved Spanish-language nursery rhyme.

This delightful tale is sure to resonate with Spanish speakers from all corners of the Americas, who grew up hearing this familiar tune.

Señora Sanasana offers a new lively character to the children's canon of beloved magical nannies and caregivers: a fashionable and kind Peruvian elder who is as fantastical as her llama companion, Llamita, and who is a cunning friend to the multicultural children and families of her high-rise apartment building.

Señora Sanasana guides her neighbors through the ups and downs of childhood, and her magical apartment is a safe place for her community to play and learn. Along the way, readers will be introduced to a host of colorful characters, each with their own unique problems and ailments that Señora Sanasana helps to cure.

As the story unfolds, readers will find themselves caught up in the rhythm and flow of the language, which is expertly crafted to evoke the musicality of the original nursery rhyme.

The story, co-authored by father-daughter duo Ashlee Campbell and Duncan Campbell, and colorfully illustrated by April Evelyn Cooper, is written in uptempo verse and sprinkled with Spanish words and Peruvian references that reflect the authors' family heritage.

From the catchy refrain of "Sanasana colita de rana" to the lilting verses that describe Señora Sanasana's healing magic, this book is a true celebration of the Spanish language and its many rich traditions.

Whether you are a native Spanish speaker or simply love the beauty and poetry of the language, Señora Sanasana is a must-read book that will leave you feeling uplifted, inspired, and nostalgic for the simple joys of childhood.
About the Author
---
Ashlee Campbell is a poet and writer who spends most of her time cooking for people. A mother and foster parent of four kids aged four to sixteen, Ashlee is raising her boisterous crowd with her husband in Toronto — a city she didn't grow up in but has adopted as her heart-home. Ashlee grew up across the globe, born to a Peruvian mama and Canadian dad in Niamey, Niger. She's also lived in Haiti, El Salvador, Honduras, Mali, Chad, Malawi, South Africa, Germany and Canada, so far!