Precious Love (Paperback)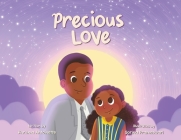 $15.00

Not currently on our shelves, but available to order (usually within a few days)
Description
---
Would you have the courage to let him in?
Takara doesn't know her dad. Where he's at, what he looks like, and what he's doing is a mystery to her. While Takara has a stepfather, she still longs for her biological father, especially when the school throws a father-daughter dance. Follow the journey of Takara as she learns if her stepfather can fill the void left by her dad. This story is a great confidence booster for children to show them that they are not the only ones dealing with stepparents, stepsiblings, or absentee parents. The author created this story to improve families' communication skills with a reflective story and discussion questions to guide children and their caregivers toward conversations focused on family and love.
With beautiful illustrations and a reflective story of real-life family dynamics, Precious Love is a heartwarming message to girls everywhere not to let a single absence keep you from moving forward.
Includes Activities and Discussion Questions to guide families, therapists, and social workers on how to jumpstart conversations with children about their unique families.