Peace with Buddha (Learning TO BE) (Board book)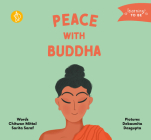 $9.99

Not currently in stock, but we are happy to backorder and notify you when it arrives.
Description
---
"What happens when our wish comes true, and we receive our doll? We play with it but soon enough, we wish for a shiny ball!"

Buddha did not want people to suffer. He reminds us that desire leads to suffering. He encouraged us to think of the path to peace as lying within ourselves.

This board book Peace With Buddha will help children recognize the values of wanting less, finding peace and connecting with their inner selves.

The Learning TO BE series is a creative way to introduce your little ones to big values in an engaging manner. Written in simple text and magical verse, this series is perfect to read aloud to toddlers (2-4 year olds) and excellent for beginning readers (4-8 year olds).

Look for other titles in this series: Kindness with Mahavira and Service with Guru Nanak.
About the Author
---
Chitwan Mittal holds an MA in Values in Education from the University of London. Actively involved in children's education since 2005, she was part of the committee that established the Indian Institute of Teacher Education and the Children's University by the Government of Gujarat, India. She is now foraying into the field of writing children's picture books. Her books encourage engagement and diversity and focus on value-oriented education, bi-lingual learning and South Asian culture. She lives between India and Singapore with her husband and two sons.

Debasmita Dasgupta is a Singapore-based, internationally published, Kirkus Best Prize-nominated illustrator & graphic novelist. She enjoys drawing both fiction & non-fiction for children & young adults. She has illustrated a significant number of picture books, comics & poems working with many international publishers. With a diploma on Comic Art from the California College of the Arts, she was awarded as one of the 50 creative fellows by the National Arts Strategies (USA) in 2015 & an arts fellow under Royal Society of Arts (RSA) in the UK.

Sarita Saraf is a writer and an artist, with an intense passion for reading. Art has been central in her life which led her to work as a Graphic designer in an architectural firm for a few years. She has authored three monographs, Nachiketas, Socrates and Abraham Lincoln, and has recently translated Sri Aurobindo's Hymns to the Mystic Fire in Hindi. Children's books is another avenue which opened new doors. Having penned seven-eight children's stories earlier (not yet in print), she has begun dabbling in verse and loves it!