The Wisdom of Solomon (Hardcover)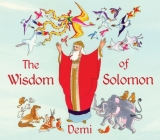 $18.95

On Our Shelves in the last 24 hours. Click to see a specific store location's stock.
Description
---
In ancient times the legendary wisdom of King Solomon (c. 990-931 BCE) was known far and wide. The Bible recounts that God loved Solomon greatly and appeared to him in a dream saying, "Ask What shall I give you?" Solomon chose neither riches nor fame, but answered, "Give to Your servant an understanding heart, that I may discern between good and evil." God was so pleased with Solomon's response that, besides a "wise and understanding heart," He gave him "both riches and honor," so that there should be none "like you among the kings all your days" (1 Kings 3:3-13). Some traditions, both Jewish and Christian, tell that Solomon also received a magic ring from the angel Michael, giving him the power to rule over creatures--Solomon even knew the language of the birds Award-winning author, Demi, recounts the extraordinary life of King Solomon, from his meeting with the Queen of Sheba to the building of the great temple of the Lord in Jerusalem. An appendix features a selection of Solomon's most famous wisdom sayings.
About the Author
---
Demi is the award-winning author of over 300 bestselling children's books, including Jesus, Mary, Saint Francis of Assisi, Hildegard of Bingen, Gifts of Our Lady of Guadalupe, and Talking to God. Her titles have sold over two million copies. The Empty Pot was selected by former First Lady Barbara Bush in 1990 as one of the books to be read on the ABC Radio Network Program Mrs. Bush's Story Time, sponsored by the Children's Literacy Initiative. Demi's book Gandhi was named a New York Times Best Illustrated Book and received an Oppenheim Toy Portfolio Platinum Award. Major exhibitions of her work have been held in numerous museums in the U.S., including the Time/Life Gallery in New York, the Botolph Galleries in Boston and Cambridge, and the Los Angeles County Museum. Demi won a Fulbright Scholarship to India, and in addition she represented the U.S. at the First International Children's Book Conference in Beijing, China, in 1992. She lives with her husband in Yarrow Point, WA.