Giving Is Easy: Tithe, Save, Invest, Give and Stay out of Debt to Prosper God's Way (Hardcover)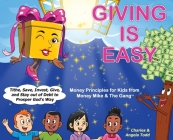 $24.99

Not currently on our shelves, but available to order (usually within a few days)
Description
---
Money Mike & The Gang(TM) are back with a new important message from Giving Grace, a sassy present that reveals, "Giving is as easy as blowing a kiss "
Giving Is Easy is the second Christian-based illustrated children's rhyming book of the Money Mike & the Gang(TM) four-book series. In this colorful picture book, Giving Grace, along with Money Mike (the main character from the first book, Money Is Easy), interacts with a young boy and girl, showing them unique lessons and values on the various ways to give. They involve the kids in doing what they teach as they share simple principles that govern increase, promotion, and biblical success. Added features include a glossary of terms and scripture references to engage families in becoming familiar with giving vocabulary and learning more about scriptures that back up giving prospering principles.
Money Mike & The Gang(TM) thrives on giving inside secrets to toddlers, preschoolers, and early elementary school-aged kids by showing them fun and easy steps to prosper God's way of how to Tithe, Save, Invest, Give and Stay out of Debt.
Make learning fun and engage kids early to apply simple steps to prosper God's way