Bowie Bingo: Icon. Rock God. Alien. Bingo! (Novelty book)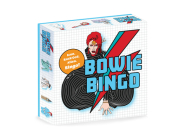 $29.95

On Our Shelves in the last 24 hours. Click to see a specific store location's stock.
Description
---
A bingo game celebrating the enduring legacy of David Bowie, the interplanetary icon who's missed around the world, every single day.

This flat-pack bingo game is a perfect gift for the true David Bowie fan (i.e. any person who can hear, love, and/or think). This box contains: 1 giant game board, 8 double-sided (and randomized) bingo cards, 48 tokens, and 150 counters, all bursting with Bowie references.

Designed to be played with 1-7 people, and certainly with your favorite Bowie record blasting in the background. Have fun picking a favorite!

(Bowie Bingo includes more detailed instructions on how to play.)
About the Author
---
Niki Fisher is a graphic designer living in the skiing hub of Jindabyne, Australia. Her illustrations have appeared in Monocle Magazine Oyster Magazine, Lonely Planet compendiums, and elsewhere. Niki is also the illustrator of 90's Bingo, released by Smith Street Gift in 2020.