Late-night Ramen: 1000- Piece Jigsaw Puzzle (Novelty book)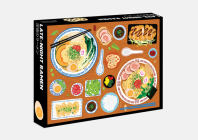 $24.95

On Our Shelves in the last 24 hours. Click to see a specific store location's stock.
Description
---
Enjoy the legendary Japanese ramen noodle like never before... as a jigsaw!

Not often does a recipe for ramen require 1,000 jigsaw pieces. That's where the Ramen Puzzle comes in... Featuring stunning illustrations by Australian artist Alice Oehr, this jigsaw will have you noodling away for hours. Naturally, this puzzle is best completed alongside some home-delivered ramen from your favorite local Japanese restaurant. Just be careful where you slurp.
About the Author
---
Alice Oehr is an illustrator, graphic and textile designer based Melbourne, Australia. She has worked with publishers, including Egmont, Frankie and Pan MacMillan. She has previously illustrated Ramen-topia, Taco-topia, and Pasta-topia for Smith Street Books.