Hey, Little Ant (Hardcover)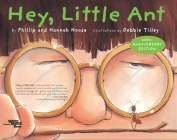 $18.99

Not currently on our shelves, but available to order (usually within a few days)
Description
---
The perfect tool to help inspire compassion in our world's youth."
—Jane Goodall, world-renowned primatologist

The 20th anniversary edition of the hilarious picture book that poses the classic conundrum: To squish or not to squish? With a meaningful message about the importance of caring for creatures big and small, this is a perfect gift for Earth Day.

What would you do if the ant you were about to step on looked up and started talking? Would you stop and listen?

That's what happens in this funny, thought-provoking book. Originally a song by a father-daughter team, this suprising conversation between a tiny ant and a little girl is bound to inspire important discussions about caring, kindness and respect for both animals and humans.
About the Author
---
Phillip Hoose is the author of five books, including the Christopher Award—winning It's Our World, Too! For more than twenty years he has been a staff member of the Nature Conservancy, working to protect habitats of endangered species, including ants. He is a founding member of the Children's Music Network and a guitar player in The Hoose Family band. For more information about Phillip Hoose visit www.heylittleant.com.

Hannah Hoose is an actress, dancer, keyboardist, and student in Portland, Maine. She has appeared in many productions for the Children's Theater of Maine. Hannah was nine when she and her father wrote "Hey, Little Ant." In performance, she plays the child who raises her foot up over the insect, played by her father. This is her first book.

Debbie Tilley's other books include Dinosaur Dinner, Riddleicious, Riddleightful, and Oops! She lives in southern California with her two cats, Vinnie and Howard, and Millie the dog.
Praise For…
---
"What a great book! Phil Hoose and his daughter Hannah are carrying on the tradition of Dr. Seuss." --Pete Seeger

"By giving us the ant's point of view, this delightful little book may help change our own." --E.O. Wilson

"Hey, Little Ant is the perfect tool to help inspire compassion in our world's youth, and has a positive message for grown-ups, too! Please share this book and its lessons with your family today." --Jane Goodall

"As a counselor, I get excited about teaching values and character education to my middle school students. While searching for resources on this topic, I found a masterpiece for classroom guidance in the illustrated picture book Hey, Little Ant…a terrific tool for fostering tolerance and respect for diversity in children of all ages."--Barbara Gruener, counselor, Friendswood, Texas, as seen in Teaching Tolerance magazine