Sheepology 1000-Piece Puzzle (Jigsaw)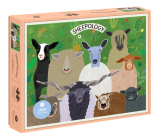 $17.95

On Our Shelves in the last 24 hours. Click to see a specific store location's stock.
Description
---
This charming and delightful 1000-piece illustrated puzzle features nine colorful sheep breeds from around the world, in a lively pasture farm scene.
 

From the Bluefaced Leicester to the California Red to the Racka and the Ouessant, Sheepology 1000-Piece Puzzle showcases nine distinct and delightful sheep breeds from around the world in a fun pasture scene. 
 
Each of the sprightly sheep featured in this charmingly illustrated jigsaw puzzle have a unique design and big personality, making them a joy to assemble. Examine each sheep and identify its species to bring an educational touch to your puzzling. 
 
Ideal for game night or a cozy weekend activity, you will love assembling these high-quality pieces and getting lost in the vibrant images of illustrator Camilla Pintonato, the talented artist also behind the 1,000-piece farm scene puzzles Chickenology and Pigology. This puzzle assembles to 25 x 20 inches with minimal puzzle dust and includes an oversize insert of the puzzle image and accompanying artist statement.

1,000-PIECE PUZZLE: This colorful, illustrated 1,000-piece adult puzzle offers the perfect challenge for family and friends.

CHARMINGLY ILLUSTRATED: Featuring nine adorable and colorful sheep types in a lush farm setting from illustrator Camilla Pintonato, this Sheepology puzzle showcases whimsical illustrated art in a varied scene.

HIGH QUALITY MATERIALS: The attractive and sturdy matte-finished storage box measures 9" x 11.3125" x 2.5. Quality control checks during production ensure there is virtually no puzzle dust.

DETAILED PUZZLE IMAGE: The box includes the full finished puzzle picture on the front and a separate oversize insert inside that displays a large, clear rendering of the puzzle image to use as reference while you piece together this 25 x 20-inch scene.

GREAT GIFT: Perfect for gift giving to animal and nature lovers, teachers, caregivers, and more.
About the Author
---
Camilla Pintonato is an author, illustrator, and graphic designer based in Venice, Italy. She studied illustration at Mimaster in Milan and completed her master's degree in editorial design at ISIA in Urbino. Her books include Chickenology, Pigology, Sheepology, Full Moon, and Wally the World's Greatest Piano-Playing Wombat.