Amazing Optical Illusions (Mass Market Paperbound)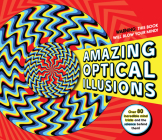 $14.95
Email or call for price.
Description
---
Slip into another dimension and experience the brain-twisting extremes of optical illusions Are your eyes and brain ready for a challenge? Then hold on tight because these picture puzzles will blow your mind Through a clever use of color, angles, and ambiguity, they trick your perception and confound your sense of reality. Watch as ladybugs seem to walk in circles on the page and a nest of vipers uncoils. Look out a window and gaze at the view--or is that a painting of a view from a window? How is it possible? Detailed explanations reveal the science behind the visual effects, letting you know what you're seeing and why you see it that way. Amazing Optical Illusions presents a range of deceptive images, impossible objects, and incredible worlds, all in a cutting-edge style that is instantly engaging.
About the Author
---
Gianni A. Sarcone and Marie-Jo Waeber are cofounders of Archimedes' Laboratory, an Italian-based training and consulting network of game designers that specializes in developing creativity. They invent, create, and develop interactive thinking games and optical illusions.