Emily and Daisy (Hardcover)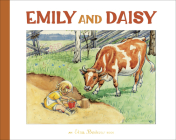 $19.95

On Our Shelves in the last 24 hours. Click to see a specific store location's stock.
Description
---
Emily wants to help her mama by watching Daisy the cow so she doesn't escape out the hole in her fence.
On the way to the meadow, Emily meets a big dog, a boastful boy and an old man. But who will help Emily when she needs it?
This is a delightful springtime story for young children about kindness and helping others from the world-renowned Swedish author-illustrator Elsa Beskow.
This wonderful new edition of Emily and Daisy faithfully reproduces Beskow's classic illustrations in a collectable picture book featuring a unique hand-crafted design, premium-quality paper, gold foil signature and a luxurious cloth spine. Create an Elsa Beskow library by collecting all of the gorgeous new editions.
About the Author
---
Elsa Beskow (1874-1953) is the most popular children's author--illustrator in Sweden. Often described as Sweden's Beatrix Potter, Elsa Beskow's picture books have been known and loved for over a century. Her charming stories of children and magical folk, accompanied by her signature illustrations, are known and cherished the world over.