Entertaining - A Dogs World (Hardcover)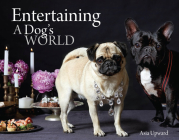 $16.99

The book is not currently in stock at our stores. Please call us for price and availability.
Description
---
Entertaining – A Dog's World brings the world of fine dining to your pooch. Chock full of nutritious meals and tasty treats, this delightfule doggy cookbook has everything you need to bring a bark back to mealtimes.
Published to raise awareness and funds for Animal SOS Sri Lanka, a charity dedicated to alleviating the suffering of street animals in Sri Lanka.
Entertaining – A Dog's World is the essential guide to canine cooking.
About the Author
---
Asia Upward was born to celebrated artists and grew up in a creative household. 
From the very beginning Asia has had a huge passion for animal welfare, always bringing home baby birds that had fallen from their nests or dogs that had lost their way.  She was an avid fan of all the wildlife shows including the most popular David Attenborough series.
It is safe to say her love for animals has only grown over the years.