A Dog's World: Homemade meals for your pooch (Hardcover)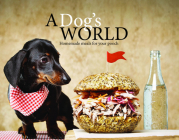 $16.99

The book is not currently in stock at our stores. Please call us for price and availability.
Description
---
A culmination of cute photography and 35 tasty, nutritional recipes to keep your dog happy and healthy.
A Dog's World is an absolute 'must have' for dog lovers – or people who simply adore cute canine photos.  It combines hilarious and quirky portraits together with homemade dog food recipes with a human twist.
35 homemade meals for your precious pooch includes Puppy Paella, Canine Frittata, Red Velvet Cake – but the twist is, all recipes are made with food that is healthy for your dog. It also has recommended healthy food lists.
Animals SOS Sri Lanka – a charity for whom the author is donating proceeds from the sale of this book, A Dog's World is the result of the paths Asia has chosen to take. 
It involves working with animals, experimental cooking ,and research into the care of dogs.  As well as creating a book for dog lovers around the world, Asia has also decided that with the success of the book she would like to help charities that help less fortunate animals.
 She hopes to raise awareness and make a financial contribution to a charity of her choice with every book she publishes.
About the Author
---
Asia Upward was born to celebrated artists and grew up in a creative household. 
From the very beginning Asia has had a huge passion for animal welfare, always bringing home baby birds that had fallen from their nests or dogs that had lost their way.  She was an avid fan of all the wildlife shows including the most popular David Attenborough series.
It is safe to say her love for animals has only grown over the years.