Nursery Rhymes For Trumpian Times (Paperback)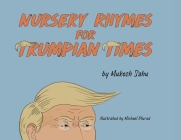 $13.95

Not currently on our shelves, but available to order (usually within a few days)
This book cannot be returned.
Description
---
We all know what happens when Jack and Jill go up that hill. Or do we? In Nursery Rhymes for Trumpian Times, Mukesh Sahu uses a familiar, beloved literary device to cast a penetrating light on the issues that are relevant today. But make no mistake, this is NOT a children's book As Georgy Porgy, ensnared in the #MeToo movement, finally faces justice, and the Black Sheep, far from simply serving as a trusted source of wool for the community, becomes another unfortunate victim of this country's resurgent nationalism, this book is most certainly not safe for the nursery. From climate change to immigration, criminal justice to minority rights, and of course the incompetence, corruption, and narcissism that define the current administration, each topic is brilliantly explored through an unfiltered, critical lens. Compelling illustrations by Michael Plurad forcefully propel the narrative, creating a collection that is as visually stunning as it is thought provoking. Featuring twenty five adaptions including Trumpty Dumbty; I'm a Little Crackpot; Don, Don, Fred's Middle Son; and Little Mike Pence, Nursery Rhymes for Trumpian Times is a raw, tragically beautiful masterpiece that gives voice to those who long for truth and enlightenment.
Of note, in the author's continuing quest to support progressive causes, he has committed to donating 20% of the proceeds of the sale of this book to several environmental/humanitarian organizations as well as the campaign of presumptive Democratic Presidential nominee Joe Biden. These organizations include:
Doctors Without Borders (MSF)
Equality Now
GLAAD
International Rescue Committee (IRC)
Natural Resources Defense Council (NRDC)
The Nature Conservancy
Readers are invited to identify in the review section on Amazon which organizations they would like to see their portion of the funds directed toward (hopefully along with an honest review). Alternatively they are welcome to send a message to samsarapublications@gmail.com after their purchase to indicate their preference.