Seder in Motion: A Haggadah to Move Body and Soul (Paperback)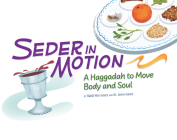 $9.95

Not currently on our shelves, but available to order (usually within a few days)
Description
---
A moving Passover experience using body and mind.
This family-friendly traditional Haggadah engages all five senses and weaves in activities to promote a full-body connection to the Passover story and rituals.
Through active participation, and using the traditional seder text, Seder in Motion invites families to connect personally to the story of the flight form slavery to freedom.
Experience familiar rituals and songs in a new way.
Create hand motions for the Ten Plagues.
Act out the march toward freedom in Dayeinu by stomping your feet and drumming on the table.
Explore traditions from around the world, such as the Morroccan custom of passing a platter of matzah overhead to symbolize the 'passing over."
Engage in mindfulness moments: draw the light of Passover toward you during the candle lighting, swish the wine in your mouth for Kiddush, an wash away negative thoughts and feelings in the ritual handwashing.
Includes tips for actively involving participants who are physically distant.
Also includes:
instructions for conducting a Search for Chametz
A complete list of ritual items and foods you will need for your seder.
Directions for creating your seder plate
Blessings, prayers and the Four Questions provided in Hebrew, Hebrew transliteration, and English
The beginning of the Counting of the Omer for the Second Night of Passover
Songs included:
Dayeinu
Eliyahu Hanavi
Echad Mi Yodea: Who Knows One? (Complete, in Hebrew transliteration and English)
Chad Gadya: One Little Goat (Complete, in Hebrew transliteration and English)