Jerry Changed the Game!: How Engineer Jerry Lawson Revolutionized Video Games Forever (Hardcover)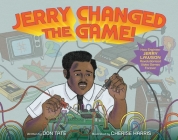 $18.99

On Our Shelves in the last 24 hours. Click to see a specific store location's stock.
Description
---
A Junior Library Guild Selection

Meet Jerry Lawson, the Black engineer who revolutionized the video game industry, in this engaging picture book biography perfect for fans of Whoosh!: Lonnie Johnson's Super-Soaking Stream of Inventions and Little Legends: Exceptional Men in Black History.

Before Xbox, PlayStation, or Nintendo Switch, there was a tinkerer named Jerry Lawson. As a boy, Jerry loved playing with springs, sprockets, and gadget-y things. When he grew up, Jerry became an engineer—a professional tinkerer—and in the 1970s, he turned his technical know-how to video games.

Back then, if players wanted a new video game, they had to buy an entire new console, making gaming very expensive. Jerry was determined to fix this problem, and despite roadblocks along the way and having to repeat a level or two, it was never game over for his mission. Eventually, he leveled up and built a brand-new kind of video game console: one that allowed players to switch out cartridges! He also founded Video Soft, Inc., the first African American–owned video game company in the country.

Jerry's tinkering and inventions changed the video gaming world forever. Today, gamers have access to hundreds of video games at the push of a button, all thanks to him. Game on!
About the Author
---
Don Tate is the award-winning creator of numerous picture book biographies, including Pigskins to Paintbrushes: The Story of Football-Playing Artist Ernie Barnes and William Still and His Freedom Stories: The Father of the Underground Railroad. He is a founding host of The Brown Bookshelf, a website that celebrates the myriad of African American voices writing for young readers. Tate's accolades include an Ezra Jack Keats Book Award and Honor, a Carter G. Woodson Book Award and Honor, two Christopher Awards, and several others. He lives with his family in Austin, Texas, and he invites you to visit him online at DonTate.com.

Cherise Harris is an illustrator from Barbados. Her work centers around an interest in fairy tale and its role in telling deep and meaningful stories. Cherise uses pencil, watercolor, and clay, exploring her ideas in both 2D and 3D form. She also uses Photoshop to create digital art and gifs. She received her associate degree in visual arts at the Barbados Community College, her BFA in illustration at the School of Visual Arts in New York City, and most recently completed her master's in illustration at Falmouth University in the UK. Cherise currently lives back home in Barbados with her husband, Ryan, and her daughter.
Praise For…
---
Growing up in 1940s Queens, Jerry Lawson was always a tinkerer, moving from handcars to radio receivers by age thirteen and then televisions at sixteen. His parents actively supported his interests, even searching out schools where racism would not limit a Black boy's chances at a good education. A cross-country move to northern California in 1968 as an adult and a job at a semiconductor manufacturer poised Lawson for success in the nascent video game industry. He led development on the Fairchild video entertainment system, a home console with removable cartridges that launched shortly before the Atari 2600, and then worked on games for Atari. This work helped bring video games from arcades into the home and changed the way people play forever. Tate contextualizes Lawson as a Black engineer moving through an overwhelmingly white industry, while ably conveying a sense of fun in both Lawson's engineering projects and the rising star of video game entertainment. Potential setbacks are posed with a refrain of "Was it GAME OVER?", framing Lawson's accomplishments and failures around a recognizable hook for readers more familiar with mobile gaming or a Nintendo Switch than an Atari (let alone a Fairchild). Digitally colored and inked pencil art uses desaturated colors and often depicts Black children playing arcade and video games; digitally added stippling and subtle patterns add depth, though the combinations are not always harmonious. An author's note gives further biographical information about Lawson's life, as well as information about the other major players involved in creating the first video game cartridge. Includes a timeline of the arcade and video game industry and a bibliography.
— The Bulletin of the Center for Children's Books

"Harris' vivid illustrations and graphics complement Tate's engaging text. Enticing and inspiring fare."
— Kirkus Reviews

"Readers will understand that Lawson was a dedicated, determined, and inventive man who paved the way for video games and Black entrepreneurs."
— Booklist