In The Bookstore 1000 Piece Puzzle: 1000 Piece Puzzle (Game)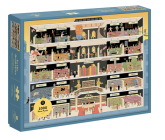 $16.95

Not currently on our shelves, but available to order (usually within a few days)
Description
---
Enter every reader's dream bookstore in this fun puzzle where literary genres come to life as the pieces come together.

Spot each literary reference in this 1000-piece puzzle teeming with bookish activity, but be careful not to get sucked into a mysterious void in horror or swept off your feet in romance. In the Bookstore is the perfect gift for bookworms, writers, poets, and anyone who has ever felt the thrill of stepping inside a beloved bookstore or getting lost in a great book.
About the Author
---
Giacomo Gambineri is an illustrator born in Genova, Italy. Professionally, he draws on magazines&nmdash;sometimes he's asked to so, other times he just walks into a newsstand with a sharpie. His doodles are featured weekly in the New York Times Magazine, but they are just as likely to ruin the reputation of many other known publications. Nowadays, he's hiding somewhere in France, with his wife and daughter.
Praise For…
---
"Science fiction, poetry, romance, literature, and more: Together, 1,000 pieces make up a great browsable, almost quaint bookshop. (There's even a magazine section.)"
— Mosaic,


"The charming illustrations in this puzzle - depicting a five-level bookstore (and some noteworthy customers) - are worth the work of putting together its 1,000 pieces."
- The Washington Post,