Cultivated 1000 Piece Puzzle (General merchandise)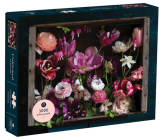 $16.95
On Our Shelves in the last 24 hours. Click to see a specific store location's stock.
Description
---
The new Cultivated puzzle, drawn from the stunning debut book by celebrated floral designer, writer, and photographer Christin Geall, captures her floral style in a rich, detailed puzzle.
About the Author
---
Christin Geall is a gardener, floral designer, photographer, writer, teacher, and owner of the floral studio Cultivated by Christin. She lives in Victoria, British Columbia, writes for Gardenista, and travels widely to teach floral design and pursue her love of gardens and art.