Worker Bees Pencil Pouch (Pollinator Collection) (General merchandise)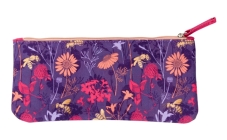 $9.99

The book is not currently in stock at our stores. Please call us for price and availability.
Description
---
Take your pens, pencils, art supplies, and other accessories on the go with this beautiful pencil pouch, perfect for storing and carrying your essentials.

Celebrate your love of the honeybee with this full-color design of the busy worker bee.

Portable size: This pencil pouch is sized to fit in most purses or backpacks.

Made to last: This durable pencil pouch has a cotton-blend exterior, nylon interior, and durable zipper with a pull tab.

Perfect for all ages: Ideal for kids, students, and adults alike, this pencil pouch is great for all lovers of the honeybee.

Save the bees: The Pollinator Collection helps educate customers about the importance of pollinator conservation with easy-to-understand facts and beautiful art.