Poems and Thoughts: Observations and Commentary on Life, Love and Nature (Hardcover)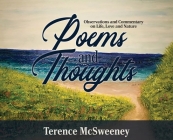 $37.00

Not currently on our shelves, but available to order (usually within a few days)
This book cannot be returned.
Description
---
This book is a collection of writing focused on the natural world and human interaction with it. Each writing is inspired by the oil painting displayed in the title and by the author's observations and experiences throughout his life. Terence McSweeney began to paint in oils in 2016. He chose painting because it was an avenue for expressing the beauty of light and color all around us within the world. Most of his paintings are natural landscapes within this book, but as a painter he is always exploring different styles. He chose to write about how these paintings made him feel with the encouragement of his wife Joyce. One of his main goals as a teacher was to help students step out of their fear of ridicule in favor of stretching self-made limitations to become truly successful people. Life is meant to be lived not survived and that requires tenacity, observation and will. There will always be times that you will be uncertain, or you will doubt yourself. Do not listen to that call, for it is just noise. Rise up and present yourself to life. Dive in and make your mark. History is full of ordinary people doing extraordinary things. A fulfilling life is not for the timid. The paintings and writings in this book attempt to bring that message to the reader.