Whaleboats: A Kyler Martz Postcard Set (Cards)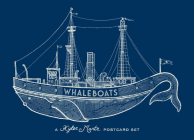 $14.99

On Our Shelves in the last 24 hours. Click to see a specific store location's stock.
Description
---
This beautiful postcard set is filled with artist Kyler Martz's popular "whaleboats" and other nautical inspired images. Featuring 8 different nautical images of popular tattoo artist Kyler Martz's much-loved whaleboats, this illustrated postcard set makes it fun to send a thank you or stylish greeting to the people in your life. This collection contains 32 postcards and is packaged like a small book.
Whaleboats: A Kyler Martz Postcard Set complements both the Daring Dames Postcard set and the Daring Dames journal.
About the Author
---
KYLER MARTZ is a Seattle-based artist, designer, and tattooer. His work ranges from commercial illustrations to murals around the city and all over the United States. He has designed custom shoes for Van's; windows for Hermes; posters for Sleater-Kinney and The Decemberists; a mural for Renee Erickson's restaurant, The Whale Wins; as well as logos for restauraings and businesses such as Little Oddfellows, Sunset Tavern, Roma Candle Baking Co., and The Scotch Scotch Pine Barbershop. Martz is a tattooer at Jackson Street Tattoo Company.