Father of the Bride (MP3 CD)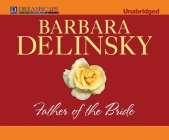 $29.99

The book is not currently in stock at our stores. Please call us for price and availability.
Description
---
Cynthia Bauer dreads seeing Russ Shaw after their scandalous divorce years earlier. Yet Russ is returning to town for the first time in twenty-five years, determined to give his only daughter away at her wedding. There's no way they'll be able to avoid each other, but it soon becomes clear that staying away from one another is the last thing either of them wants.
About the Author
---
Barbara Delinsky has written more than nineteen bestselling novels with over thirty million copies in print. She has been published in twenty languages worldwide. Barbara's fiction centers upon everyday families facing not-so-everyday challenges. She is particularly drawn to exploring themes of motherhood, marriage, sibling rivalry, and friendship in her novels. A lifelong New Englander, Barbara earned a B.A. in Psychology at Tufts University and an M.A. in Sociology at Boston College. READER BIOLydia Schafer has lived most of her life in Northwest Ohio, attending Ottawa Hills Schools, The University of Toledo, and the former Medical College of Ohio. After earning a PhD in Pathology, she taught for 13 years as an assistant professor before retiring in 2006 to finish raising her son and daughter. Having participated in theater and entertaining while growing up, her empty nest has now given her the opportunity to perform again and she can be found singing with the Plat Three Band, working with local TV stations on commercials, and on stage with local theater productions. Lydia still lives in the area with her husband of 27 years, Patrick, a local physician.