Principles of Creature Design: Creating Imaginary Animals (Paperback)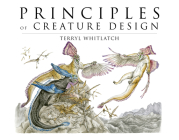 $47.95

The book is not currently in stock at our stores. Please call us for price and availability.
Description
---
Designing a captivating creature simply for it to exist against a white background and going no further is a purely academic exercise. Designing a creature that can survive in a world, interact with its own and other species, and go on to make an impact, is designing with intent--the end goal of creature design and what you'll witness in this latest book from industry veteran Terryl Whitlach. With decades of experience in the entertainment industry, developing creatures for Star Wars: Episode 1--The Phantom Menace and Beowulf, among other projects, she offers valuable advice on how to develop otherworldly beings that are not just stunning in appearance, but also possess qualities that will endear viewers to them, or repulse, if that's the intent. For Whitlatch, there's no limit to what can be imagined with an open mind, though the journey may not always be an easy one. It's what she calls "chasing the unicorn." We will surely enjoy joining her on her journey, filled with creatures that are so vivid, whimsical, and elaborate that we will wish--or wonder if--they are real.
About the Author
---
Terryl Whitlatch is an accomplished, scientifically and academically trained illustrator who extensively studied vertebrate zoology and animal anatomy. She has worked for various zoos and museums in the United States and as senior consultant on Wildlife Art and Animal Anatomy for the World Wildlife Fund. She is considered to be one of the top creature designers and animal anatomists working in the field today. In a career spanning more than 25 years, Whitlatch has many projects to her credit, including Star Wars: The Phantom Menace, Star Wars: The Special Edition, Jumanji, Men in Black, Brother Bear, Dragonheart, Alvin and the Chipmunks, Curious George, The Polar Express, and Beowulf. For over seven years, she worked for Lucasfilm, Industrial Light & Magic, and George Lucas's JAK Films. Her illustration skills and comprehensive knowledge of animal anatomy and movement are essential in the development of believable creature creation.