Dooby Lane: Also Known as Guru Road, A Testament Inscribed in Stone Tablets by DeWayne Williams (Hardcover)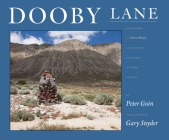 $35.00

The book is not currently in stock at our stores. Please call us for price and availability.
Description
---
If left alone, what might a place say? If we must leave it, what must we leave behind? Guru Road, Dooby Lane. It was in this place where, nearly twenty years ago, Gary Snyder discovered, considered, and chronicled such latitudinal ruminations by way of one man, DeWayne "Dooby" Williams, and the coalesced stories and tributes which Williams faithfully etched upon granite, his elected canvas. When Snyder and his wife, Carole, were camping along the Black Rock playa, northwest of the Great Basin and northeast of the town of Gerlach, they deviated from their journey down a paved path to explore a little dirt road that glinted with intrigue. This spontaneous decision led Snyder to "this remarkable text of life and spirit" and to Williams who, retired and living with cancer, was creating the testament of a lifetime—that which would transcend corporeal measures and touch the lives of countless people in endless moments for many years to come.



DeWayne Williams created this work of Earth Art in the Black Rock desert, near the current site of the Burning Man gathering. This full–color book presents a series of photographs by Peter Goin, accompanied by the prose and poetry of Gary Snyder.
About the Author
---
Gary Snyder is the author of more than twenty collections of poetry and prose. Since 1970 he has lived in the watershed of the South Yuba River in the foothills of the Sierra Nevada. Winner of the Pulitzer Prize in 1975, Snyder has also been awarded the Bollingen Prize for Poetry and the Robert Kirsch Lifetime Achievement Award. His 1992 collection, No Nature, was a National Book Award finalist, and in 2008 he received the Ruth Lilly Poetry Prize. Snyder is a poet, environmentalist, educator and Zen Buddhist.