Vanishing Cultures: Himalaya (Paperback)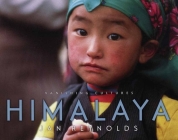 $10.95

Not currently on our shelves, but available to order (usually within a few days)
Description
---
Notable Social Studies Trade Books for Young People, National Council for the Social Studies/ Children's Book Council
Kids' Pick of the List, American Bookseller's Association
In this series of seven books, photojournalist Jan Reynolds documents the distinctive cultures and climates of indigenous peoples.
High in the Himalaya, Yangshi's mother is making a rice drink to trade at the market. For Sherpas and Tibetans, trading is a means of sharing their crops and goods with others who live throughout the mountain chain.
Yanghsi's family also takes some of the rice drink to the monastery as a gift for the monks. Sherpas and Tibetans live simply, in harmony with the world around them. Yangshi's people believe life is an endless circle that goes around and around, as symbolized by the prayer wheel she spins at the monastery.
About the Author
---
Jan Reynolds is an award-winning author and photographer whose work has appeared in numerous publications, including National Geographic, The New York Times, and Outside magazine. All seven books in her Vanishing Cultures series of photo-essays for children were recognized as Notable Social Studies Trade Books for Young People, and she is also the author of Celebrate! Connections Among Cultures; Only the Mountains Do Not Move, and The Lion Queens of India. Reynolds holds the world record for women's high altitude skiing, was part of the first expedition to circumnavigate Mount Everest, and performed a solo crossing of the Himalayas. She lives with her family in Stowe, Vermont. Please visit her on the web at janreynolds.com.