Adventures in Cartooning Activity Book (Paperback)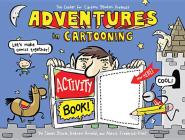 Email or call for price
Out of Print. This book is not available to order. If you would like to double check please give us a call.
Other Books in Series
Description
---
The magic cartooning elf is back—along with the Knight, Edward the hungry horse, and a whole new cast of charming characters! And this time, readers can join in the fun—right IN the book!
ALA Notable Children's Book Adventures in Cartooning was called "the best book of the year," in a starred review in Booklist, and was named a School Library Journal Best Book of the Year. Building on the basic lessons presented in Adventures in Cartooning, this activity book leads kids through a story that they help tell by doodling and completing comics activities. And at the end, readers are invited to make their own comic book story!
About the Author
---
James Sturm is the author of several award-winning graphic novels for children and adults, including James Sturm's America, Market Day, The Golem's Mighty Swing and Satchel Paige: Striking Out Jim Crow. He is also the founder of the Center for Cartoon Studies and the National Association for Comics Art Educators.  He created Adventures in Cartooning with collaborators Alexis Frederic-Frost and Andrew Arnold. Sturm, his wife, and two daughters live in White River Junction, Vermont.

Andrew Arnold is one of the co-authors of the Adventures in Cartooning series and moonlights [during the day] as a book designer for a children's book publisher. His work has appeared in several publications, including Nickelodeon Magazine, Cambridge University Press, and Roaring Brook Press. Originally from Houston, TX, Andrew currently lives in New York City.

Alexis Frederick-Frost is co-author and illustrator of the critically acclaimed Adventures in Cartooning series of graphic novels and picture books. A combination how-to book and exciting adventure story, Adventures in Cartooning: how to turn your doodles into comics, was one of Booklist's Top Ten Graphic Novel of 2010 and has encourage hundreds of young artists to create their own comics. He also wrote and illustrated the monthly comic Kit and Clay for The Phoenix Magazine in the United Kingdom and has contributed to a variety of publications online and in print. A graduate from the inaugural class of the Center for Cartoon Studies, Alexis lives with his wife in Maryland.
Praise For…
---
"The superlative Adventures in Cartooning (2009) was a first-rate adventure story and clever comics primer for young readers. This follow-up offers a hands-on approach to creating sequential narrative that kids interested in the form will not be able to resist. Slimmer and lighter on story, the narrative of a knight and his friendly elf questing for fun in the middle of a rainstorm is seamlessly woven into various activities meant to sharpen children's understanding of and skill with the rudiments of sequential art. All the crucial bases are covered: illustrating expressions, characters, objects, and actions; using codes (like speed lines), perspective, dialogue, and sound effects; and panel sequencing and efficiency. All this culminates in a mapped-out array of blank panels for producing an entire story. Nothing else quite like this take on understanding and making comics exists, and few things in the future are likely to capture its charm, though there is certainly an issue with its built-in, print-specific limitations: be ready to xerox all the activity pages, or this will be a one-use activity book." —Booklist