The Journey of Tunuri and the Blue Deer: A Huichol Indian Story (Hardcover)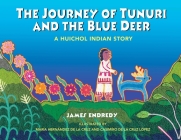 $15.95

Not currently on our shelves, but available to order (usually within a few days)
Description
---
A contemporary adaptation of an indigenous Huichol teaching tale, illustrated with traditional yarn drawings by Huichol artisans

• Shares the hidden treasures of a nature-based indigenous culture

• A teaching tool for multicultural studies for children ages 6 to 9

• Explains who the Huichol people are and the symbolism of the images used by the artists

The Huichol Indians live in the remote regions of the Sierra Madre Mountains of western Mexico, where geographic isolation has allowed them to retain their culture and spiritual traditions in the face of colonization. Their nature-based way of life makes no distinction between the sacred and the secular, and they express their reverence for the powers of the earth by regarding all elements in nature as family.

The Journey of Tunuri and the Blue Deer is a modern adaptation of a traditional Huichol story depicting a young child finding his (or her) personal task in life by connecting with the powers of nature. The story is told through the experiences of young Tunuri, who becomes lost in the woods. He meets the magical Blue Deer--a messenger between the worlds of mortals and deities--who introduces Tunuri to Father Sun, Mother Earth, and others in the natural world, while leading him back to his human family. Through this lovely tale and the vivid illustrations done in the medium of traditional Huichol yarn drawings, children can learn about their place in the sacred web of life.
About the Author
---
James Endredy is a practicing shaman of Hungarian descent who learned his craft from formal initiations with the peyote shamans of Mexico and through 30 years of living with and learning from shamanic cultures in North and South America. He is actively involved in preserving historic alchemy texts as well as the world's indigenous cultures and sacred sites. The award-winning author of several books, including Advanced Shamanism, Teachings of the Peyote Shamans, Ecoshamanism, and Earthwalks for Body and Spirit, he lives in California.

Maria Hernandez De La Cruz lives in a small village within the San Andreas ceremonial center in the Huichol Sierra. A highly accomplished artist, she began making yarn drawings as a child. Long before starting work on this book, she had a dream vision of Tunuri while on a pilgrimage to the sacred desert of Wirikuta--and thus was not at all surprised when asked to illustrate this story.

Casimiro De La Cruz Lopez comes from a village near the ceremonial center of Santa Catarina in the Huichol Sierra, where he spends much of his time helping his father, who has been the elected spiritual leader of their community for many years. While doing much of the yarn work for this story alongside María, Casimiro was also instrumental in translating the author's and Maria's visions into two-dimensional images.
Praise For…
---
"A strong addition to folktale collections."
— Linda Kenton, School Library Journal, January 2004

"A creative extension of the oral tradition of Huichol culture."
— Spirit of Change, May/June 2004

"Simply but eloquently tells the story of how nature and human lives are connected."
— Troy-Michelle Reinhardt, ForeWord, 2004, Vol.7 No3

". . . marvelously illustrated with colorful yarn pictures by Maria Hernandez de la Cruz and Casimiro de la Cruz Lopez, and includes information about the Huichol people, their sacred symbols and their art. Ages 6-9 (and to be enjoyed at any age)."
— Light of Consciousness, Winter 2004

"A highly recommended addition to school and community library Native American collections for young readers."
— The Midwest Book Review, February 2004