Prairie Home Comedy: Radio Songs and Sketches (CD-Audio)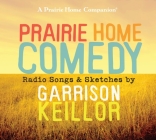 Email or call for price
Out of Print. This book is not available to order. If you would like to double check please give us a call.
This book cannot be returned.
Description
---
Thirty-four of the best-loved, most-requested songs and sketches from the original radio broadcasts of A Prairie Home Companion.

Contents:

Freelance Writer; American Artistic Association; I Am a Tenor; Car Trip; Memories of Pain; The Management Assumes No Responsibility; Second Methodist Church; Moodism; Reaching Out; Sex; Washing Your Hands; The In and Out Cat Song; The Story of Thanksgiving; My Grandmother's Cat; Animals of Other Lands; Winter Madrigal; The Francis S. Key Story; The Ballad of Peanut Butter; Winged Motivational Products; Twelfth Street Tag; The Old Shower Stall; Am I Boring?; Adversity; Bob Wilson Month; Mavis & Marvin Smiley; American Music Association; Losing Your Job; Vanilla; How Does Our Brain Work?; Dad Angel; Old Folks at Home Cottage Cheese; Swanee Tag; The Announcer; Tuna the Food of My Soul
About the Author
---
Garrison Keillor is America's favorite storyteller. For more than 35 years, as the host of A Prairie Home Companion, he has captivated millions of listeners with his weekly News from Lake Wobegon monologues. A Prairie Home Companion is heard on hundreds of public radio stations, as well as America One, the Armed Forces Networks, Sirius Satellite Radio, and via a live audio webcast. 
 
Keillor is also the author of several books and a frequent contributor to national publications including Time, The New Yorker, and National Geographic, in addition to writing his own syndicated column. He has been awarded a National Humanities Medal from the National Endowment of the Humanities. When not touring, he resides in St. Paul, Minnesota.