Towards an Encyclopedia of Local Knowledge Volume II: Excerpts from Chapter III - Miawpukek (Hardcover)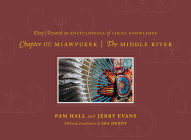 $79.95

The book is not currently in stock at our stores. Please call us for price and availability.
Description
---
Presented in English and Mi'kmaq, the latest chapter in this ambitious series presents a remarkable and respectful collaboration between an Indigenous and non-Indigenous artist, deepening and diversifying our understanding of the intergenerational knowledge of a Mi'kmaw community in Newfoundland.
Miawpukek--The Middle River is Chapter III of Towards an Encyclopedia of Local Knowledge, the art-and-knowledge project of artist-scholar Pam Hall. This volume presents local, place-based knowledge gathered by Hall and artist Jerry Evans. From canoe-building to berry harvesting, from preparing moose nose to foraging for natural medicines, from stewarding eel populations to reclaiming language and traditional cultural practices, Towards an Encyclopedia of Local Knowledge: Chapter III: Miawpukek--The Middle River vividly presents the rich, place-based knowings and doings of this Indigenous community on the south coast of Newfoundland.