What Cats Teach Us 2023 Box Calendar (Daily)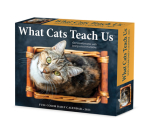 $16.99

The book is not currently in stock at our stores. Please call us for price and availability.
This book cannot be returned.
Description
---
Cats have much to teach us about what is important to cherish, defend, avoid and enjoy in our lives. Each of the 310 full-color feline photographs in this daily calendar includes a simple, uplifting, daily lesson to live by. Full-color images on easy tear-off pages are printed on high quality, FSC certified paper with soy-based inks. Pages are mounted on a recyclable stand for easy display. All major public and culturally significant holidays are included.