Rewordable Card Game: The Uniquely Fragmented Word Game (Game)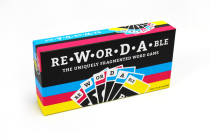 $15.99

On Our Shelves in the last 24 hours. Click to see a specific store location's stock.
This book cannot be returned.
Description
---
Learning ® Magazine 2020 Teachers' Choice℠ Award for the Classroom • Winner of a Parents' Choice Gold Award • Recommended by Mensa Mind Games®

The Kickstarter-funded, uniquely fragmented word game, intuitive and fun for 2-8 players ages 8+ of all skill levels!
 
Every letter counts in a game of Rewordable! Each of the 120 cards has been selected for optimal word crafting. Build a new word and be rewarded—or add to other players' words to steal their points. Create the largest lexicon of words by the end of the game to become the Rewordable champion. This variable deck was carefully crafted to make it easier to form longer, more common words, and offers a fresh linguistic experience every game. Happy word-making!

 Includes:
• 120 cards with one-, two-, and three-letter sequences, selected through linguistic research, computational analysis, and extensive playtesting
• 16 tokens add different goals, strategies, and rewards to every game
• Nifty fold-out rules with easy to follow how-to-play diagrams
About the Author
---
TEAM REWORDABLE met as students at New York University's Interactive Telecommunications Program (ITP). Since graduating, they have worked in diverse sectors of technology, education, and games, reuniting to make Rewordable. In 2016, the team was selected for the NYU Game Center Incubator program, and they funded further development of Rewordable through a successful Kickstarter campaign shortly thereafter.