The Horn Island Logs of Walter Inglis Anderson (Hardcover)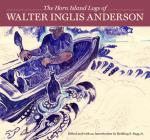 $50.00
Email or call for price.
Description
---
Walter Inglis Anderson will astonish you and give you a fresh view of the natural world. Heralded as a major American watercolorist, this reclusive Mississippi artist made periodic sojourns to an undisturbed barrier island in the Gulf of Mexico where he observed and experienced the mysteries of nature. In this volume Anderson's visionary drawings and watercolors of plants and wildlife enhance his narrative of his solitary time on Horn Island. From his reflections made over a period of twenty years, one discovers the secrets of a fragile and changing ecology and marvels at Anderson's exotic vision. Available again after great demand, The Horn Island Logs of Walter Inglis Anderson reveals the art and the mind of a unique artist alone and lost in the world of nature.
About the Author
---
Redding S. Sugg Jr. (1922-2007) is author of A Painter's Psalm, a book about Walter Anderson's secret room in which he painted murals celebrating the natural world, a superlative collection of art that was unknown until after Anderson's death. Sugg also edited Walter Anderson's Illustrations of Epic and Voyage, published by University Press of Mississippi.