Marc Davis in His Own Words: Imagineering the Disney Theme Parks (Hardcover)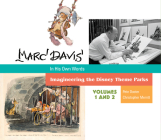 $150.00

Not currently on our shelves, but available to order (usually within a few days)
Description
---
Award-winning filmmaker Pete Docter and veteran Walt Disney Imagineer Christopher Merritt share a deluxe two-book slip-cased set celebrating Disney Legend Marc Davis. The hefty volumes showcase Marc's mostly unseen Disney theme park concept art and offer a unique behind-the-scenes view as told through Marc's own words.
On February 16, 1962, senior animator Marc Davis officially transitioned from Walt Disney Feature Animation to a new division of the company: a group assembled to design Walt's new theme park. After thirty-plus years animating classic Disney features, Marc would become one of the most renowned of Walt Disney's new breed of employee-Imagineers.
Marc would become a driving force behind the designs of many of the most iconic park attractions. Pirates of the Caribbean, The Haunted Mansion, it's a small world, Jungle Cruise, Country Bear Jamboree, and many others feature environments and storylines that were heavily influenced by his conceptual artwork.
Featuring work from the sixties through the eighties, this two-volume set includes more than 1,500 pieces from the Imagineering archives, the vast majority of which have never been published. In addition, for the first time Marc's design theories as well as many of his stories of working with Walt are featured in his own words as recorded during hours upon hours of interviews by author Chris Merritt.
Marc Davis in His Own Word
s is a treasure trove for artists, students, and Disney collectors.
Searching for that perfect gift for the Disney theme park fan in your life? Explore more archival-quality books from Disney Editions:
Holiday Magic at the Disney Parks
The Disney Monorail: Imagineering a Highway in the Sky
Walt Disney's Ultimate Inventor: The Genius of Ub Iwerks
One Day at Disney: Meet the People Who Make the Magic Across the Globe
Yesterday's Tomorrow: Disney's Magical Mid-Century
Eat Like Walt: The Wonderful World of Disney Food
Maps of the Disney Parks: Charting 60 Years from California to Shanghai
The Haunted Mansion: Imagineering a Disney Classic
Poster Art of the Disney Parks
About the Author
---
Pete Docter is an American film director, animator, and screenwriter from Bloomington, Minnesota. He is best known for directing Inside Out, Monsters, Inc., and Up and as a key figure and collaborator in Pixar Animation Studios. The A.V. Club has called him "almost universally successful." He has been nominated for six Oscars (two wins thus far for Up and Inside Out-Best Animated Feature), three Annie Awards (two wins), a BAFTA Children's Film Award (which he won), and a Hochi Film Award (which he won). He has described himself as a "geeky kid from Minnesota who likes to draw cartoons."
Southern California native Christopher Merritt has more than twenty years of attraction and show design experience creating theme park attractions and environments around the world as an art director and production designer at theme parks located in California, Florida, Tokyo, Singapore, and Shanghai. Chris is the author of a Knott's Berry Farm pictorial history, Knott's Preserved (2010) and Pacific Ocean Park: The Rise and Fall of Los Angeles' Space Age Nautical Pleasure Pier (2014). Chris spent countless hours with Marc Davis (and Alice Davis)-both learning from the masters and documenting history. Chris is currently at work at Walt Disney Imagineering as lead show designer for the Tokyo DisneySea version of the Frozen attraction.



Praise For…
---
PRAISE FOR MARC DAVIS IN HIS OWN WORDS#1 of "19 great coffee table books for Disney fans"—Business Insider

PRAISE FOR MARC DAVIS IN HIS OWN WORDSOne of "20 Books Every True Disney Fan Should Have in Their Collection"—POPSUGAR

PRAISE FOR MARC DAVIS IN HIS OWN WORDS"The Disney Publishing team did a fantastic job at reproducing and printing Davis' work; it really is visually stunning. As far as content, what better way to learn from a master than in their own words? It's a wonderful opportunity to get a behind-the-scenes look at what went into all those classic Disney attractions."—Business Insider

PRAISE FOR WALT DISNEY ANIMATION STUDIOS-THE ARCHIVE SERIES: WALT DISNEY'S NINE OLD MEN-THE FLIPBOOKS

"This pet project of UP director Pete Docter is among the more unique book concepts, and pays tribute to the work of the Nine Old Men in the best way possible: by displaying scenes their animation work. Amazingly, none of the Nine Old Men's full animation scenes have been made available to the public before, which makes this both a valuable historical and educational project. There's no better choice than Docter to spearhead the project; he's a big fan of the flipbook format and creates a flipbook ever year as his personal Christmas card."
—Cartoon Brew

PRAISE FOR WALT DISNEY ANIMATION STUDIOS-THE ARCHIVE SERIES: WALT DISNEY'S NINE MORE OLD MEN-THE FLIPBOOKS

"Docter doesn't make a big deal about his knowledge of the art form, but he is a first-class historian."—Cartoon Brew