Plants Can't Sit Still (Hardcover)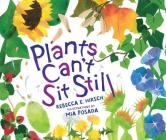 $19.99

Not currently in stock, but we are happy to backorder and notify you when it arrives.
Description
---
Do plants really move? Absolutely
You might be surprised by all ways plants can move. Plants might not pick up their roots and walk away, but they definitely don't sit still Discover the many ways plants (and their seeds) move. Whether it's a sunflower, a Venus flytrap, or an exotic plant like an exploding cucumber, this fascinating picture book shows just how excitingly active plants really are.
With a doctorate in biology, Hirsch understands her subject, but equally important is her ability to communicate with well-chosen words that make the ideas fun and memorable for children. . . . A new way to see the plants around us.--starred, Booklist
Colorful, exuberant illustrations work impressively with the text. . . . Excellent collaboration produced a winner: graceful, informative, and entertaining.--starred, Kirkus Reviews