On-the-Go Amusements: 50 Sweet Things to Do on a Date: (50 Ideas for Shaking up Your Romantic Routine, Great Date-Night Activity Cards in a Box) (Cards)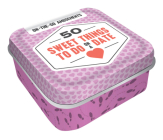 $8.95

On Our Shelves in the last 24 hours. Click to see a specific store location's stock.
Description
---
Bestselling format!

Looking for new ways to connect with your sweetie? Look no further than this cute, compact tin filled with 50 unique, romantic ideas for date night!

• The colorful, petite tins are perfect for slipping into a purse or pocket for on-the-go fun. Also makes a thoughtful, unique gift or stocking stuffer
• A great gift for a recently engaged or newly dating couple—or buy it for yourself to rekindle romance!
• Tin box with lift-off lid, 51 cards, full-color printing throughout
About the Author
---
Chronicle Books publishes distinctive books and gifts. From award-winning children's titles, bestselling cookbooks, and eclectic pop culture to acclaimed works of art and design, stationery, and journals, we craft publishing that's instantly recognizable for its spirit and creativity. Enjoy our publishing and become part of our community at www.chroniclebooks.com.