The Fire of Stars: The Life and Brilliance of the Woman Who Discovered What Stars Are Made Of (Hardcover)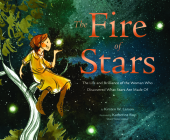 $18.99

On Our Shelves in the last 24 hours. Click to see a specific store location's stock.
Description
---
A poetic picture book celebrating the life and scientific discoveries of the groundbreaking astronomer Cecilia Payne!
Astronomer and astrophysicist Cecilia Payne was the first person to discover what burns at the heart of stars. But she didn't start out as the groundbreaking scientist she would eventually become. She started out as a girl full of curiosity, hoping one day to unlock the mysteries of the universe. 
With lyrical, evocative text by Kirsten W. Larson and extraordinary illustrations by award-winning illustrator Katherine Roy, this moving biography powerfully parallels the kindling of Cecilia Payne's own curiosity and her scientific career with the process of a star's birth, from mere possibility in an expanse of space to an eventual, breathtaking explosion of light.
WOMEN IN STEM CAN CHANGE HISTORY: With women making up less than 30 percent of the science and engineering workforce, supporting young girls who are interested in STEM fields is more important than ever! This picture book tells the story of Cecilia Payne, a trailblazing female astronomer and role model for young girls to relate to and see themselves in, from even the youngest age.
LOOK TO THE STARS: Any reader or stargazer who feels dazzled by the striking night sky will be enchanted by this true story of discovery and invention, as Cecilia's contributions to science prompt us to wonder: What
else
is out there?
BEAUTIFUL, INSPIRING GIFT: With compelling visual storytelling and an inspiring role model for aspiring astronomers, scientists, and engineers (and for young girls in particular), this stellar biography makes a great choice for any giving moment, from birthdays to celebrations to the holidays.
Perfect for:
Parents, teachers, and librarians looking to instill curiosity and encourage scientific exploration
Lovers of astronomy, stargazing, space travel, and outer space
Anyone seeking narrative nonfiction and biography books about women in STEM for the classroom or choice reading
Gift-givers looking for a unique true story to delight and inspire girls and boys
Fans of Hidden Figures, Rad American Women A-Z, and I Am Malala
About the Author
---
Kirsten W. Larson used to work with rocket scientists at NASA. Now she writes books for curious kids. She is the author of Wood, Wire, Wings: Emma Lilian Todd Invents an Airplane and A True Wonder: The Comic Book Hero Who Changed Everything, along with several forthcoming titles. She lives near Los Angeles, California, with her family.
 
Katherine Roy is the award-winning author and illustrator of many science-based books for kids, including her Sibert Honor book Neighborhood Sharks: Hunting with the Great Whites of California's Farallon Islands and How to Be an Elephant: Growing Up in the African Wild. She is also the illustrator of Otis and Will Discover the Deep: The Record-Setting Dive of the Bathysphere and of Red Rover: Curiosity on Mars. She lives with her husband and sons in Oregon, where she loves gazing up at the stars.
Praise For…
---
"A luminous thematic pairing." — Kirkus, starred review

 "A stellar subject, breathtaking artwork, and unique layout set this biography for young readers apart from the rest." — School Library Journal, starred review

"[M]akes a good addition to the astronomy shelves." — Booklist

"Kirsten Larson deftly weaves together her compelling biography of an important woman who "stick[s] to her path" despite the odds. The decision to parallel Cecilia's development with that of an emerging star is an inspired one, and Katherine Roy uses pencil, ink and digital color to create luminous illustrations that crackle with energy." — Shelf Awareness, starred review

"Marrying format, language, and subject, Larson conscientiously emphasizes Payne's accomplishments. Taking place alongside inky interstellar sidebar views, accompanying pencil and ink illustrations by Roy glow…" — Publishers Weekly, starred review

A 2023 Good Housekeeping Kids Book Award Winner