The Beachcomber's Companion: An Illustrated Guide to Collecting and Identifying Beach Treasures (Watercolor Seashell and Shell Collecting Book, Beach Lover Gift) (Hardcover)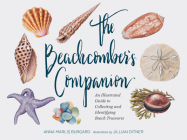 $16.95

Not currently on our shelves, but available to order (usually within a few days)
Description
---
A lovely beach house book or hostess gift, perfect for any beachy coffee table.

Breezy, inviting, and delightful—just like a day at the beach—The Beachcomber's Companion is a charming illustrated guide to collecting and identifying shells and other coastal treasures. Each of the entries includes fascinating descriptions, fun tidbits, and detailed artwork that makes it easy for readers to identify their own beach discoveries. A handy resource section offers tips on how to prepare before setting out on a shoreline adventure: from the beachcomber's commandments to must-have items for every beachcombing toolkit and advice on preserving shells. Awash with information and gorgeous watercolor illustrations, this is an essential companion for all who love the ocean's shore.
About the Author
---
Anna Marlis Burgard is the founding author of Islands of America (www.islandsofamerica.com), a multimedia venture that explores island arts, cuisines, histories, and wildlife. As a lifelong beachcomber, Burgard has visited 130 of the more than 20,000 islands in the United States. She lives on Tybee Island in Georgia, whose state shell is the knobbed whelk.
Praise For…
---
"Loaded with interesting information, charming anecdotes, and useful hints, Burgard's Companion does a fine job of helping beachcombers both understand and appreciate their treasures."
-Dr. David L. Pawson, Emeritus Senior Scientist, Smithsonian National Museum of Natural History

"Loaded with interesting information, charming anecdotes, and useful hints, Burgard's Companion does a fine job of helping beachcombers both understand and appreciate their treasures."
-Dr. David L. Pawson, Emeritus Senior Scientist, Smithsonian National Museum of Natural History

"Lifelong beachcomber Burgard covers each type of shell with a combination of natural science, history, folklore and other contextualizing info, making even the most humble shell a storied object." -BookPage (Lifestyles Top Pick)

"Lifelong beachcomber Burgard covers each type of shell with a combination of natural science, history, folklore and other contextualizing info, making even the most humble shell a storied object." -BookPage (Lifestyles Top Pick)

"It's like strolling near the waves with a dear friend who, because she's devoted much of her life to the study of islands, is familiar with what washes up on, or what lives on, that liminal zone where the sand and surf interact. You'll want to enjoy all of what Burgard has to share in this Beachcomber's Companion." -The Austin Chronicle

"It's like strolling near the waves with a dear friend who, because she's devoted much of her life to the study of islands, is familiar with what washes up on, or what lives on, that liminal zone where the sand and surf interact. You'll want to enjoy all of what Burgard has to share in this Beachcomber's Companion." -The Austin Chronicle

"Folks with beach houses across the South take note-you'll want this beautiful little book displayed proudly, waiting for a guest to thumb through the serene watercolor illustrations to learn the names of what they found on a seashell-hunting trip." - Garden Gun

"Folks with beach houses across the South take note-you'll want this beautiful little book displayed proudly, waiting for a guest to thumb through the serene watercolor illustrations to learn the names of what they found on a seashell-hunting trip." - Garden Gun

"The Beachcomber's Companion answers all your questions about the creatures that call these shells home and the best ways to collect them.inspires a new appreciation for the wonders of the shore." -Providence Journal

"The Beachcomber's Companion answers all your questions about the creatures that call these shells home and the best ways to collect them.inspires a new appreciation for the wonders of the shore." -Providence Journal