The Three-Body Problem (Remembrance of Earth's Past #1) (CD-Audio)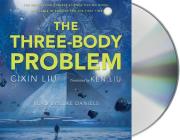 $52.99
The book is not currently in stock at our stores. Please call us for price and availability.
Description
---
The Three-Body Problem is the first chance for English-speaking readers to experience the Hugo Award-winning phenomenon from China's most beloved science fiction author, Liu Cixin.
Set against the backdrop of China's Cultural Revolution, a secret military project sends signals into space to establish contact with aliens. An alien civilization on the brink of destruction captures the signal and plans to invade Earth. Meanwhile, on Earth, different camps start forming, planning to either welcome the superior beings and help them take over a world seen as corrupt, or to fight against the invasion. The result is a science fiction masterpiece of enormous scope and vision.
About the Author
---
CIXIN LIU is the most prolific and popular science fiction writer in the People's Republic of China. Liu is an eight-time winner of the Galaxy Award (the Chinese Hugo) and a winner of the Chinese Nebula Award. Prior to becoming a writer, he worked as an engineer in a power plant. His novels include The Three-Body Problem, The Dark Forest, and Death's End.

Ken Liu's fiction has appeared in F&SF, Asimov's, Analog, Strange Horizons, Lightspeed, and Clarkesworld, among other places. He is the author of The Grace of Kings, and has won a Nebula, two Hugos, a World Fantasy Award, and a Science Fiction & Fantasy Translation Award, and been nominated for the Sturgeon and the Locus Awards. He edited and translated the Chinese science fiction anthology Invisible Planets. He lives near Boston with his family.
Praise For…
---
"Remarkable, revelatory and not to be missed." —Kirkus Reviews, starred review