The Midnight Assassin: Panic, Scandal, and the Hunt for America's First Serial Killer (CD-Audio)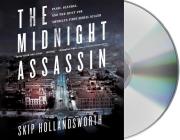 $39.99
Email or call for price.
Description
---
A sweeping narrative history of a terrifying serial killer--America's first--who stalked Austin, Texas in 1885

In the late 1800s, the city of Austin, Texas was on the cusp of emerging from an isolated western outpost into a truly cosmopolitan metropolis. But beginning in December 1884, Austin was terrorized by someone equally as vicious and, in some ways, far more diabolical than London's infamous Jack the Ripper. For almost exactly one year, the Midnight Assassin crisscrossed the entire city, striking on moonlit nights, using axes, knives, and long steel rods to rip apart women from every race and class. At the time the concept of a serial killer was unthinkable, but the murders continued, the killer became more brazen, and the citizens' panic reached a fever pitch.

Before it was all over, at least a dozen men would be arrested in connection with the murders, and the crimes would expose what a newspaper described as "the most extensive and profound scandal ever known in Austin." And yes, when Jack the Ripper began his attacks in 1888, London police investigators did wonder if the killer from Austin had crossed the ocean to terrorize their own city.

With vivid historical detail and novelistic flair, Texas Monthly journalist Skip Hollandsworth brings this terrifying saga to life.

The introduction and epilogue are read by the author.
About the Author
---
Skip Hollandsworth is an award-winning journalist, screenwriter, and executive editor of Texas Monthly magazine. His work was included in the 2006 edition of Best American Crime Writing and he has won a National Magazine Award for feature writing. Hollandsworth co-wrote the acclaimed screenplay "Bernie" with director Richard Linklater. He lives in Texas with his wife.
Praise For…
---
"Narrator Clint Jordan does an outstanding job of keeping this suspenseful real-life thriller going to the last chapter...highly recommended." -Library Journal