God Emperor of Dune (Compact Disc)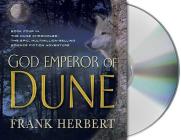 $49.95

The book is not currently in stock at our stores. Please call us for price and availability.
Description
---
More than three thousand years have passed since the first events recorded in Frank Herbert's DUNE. Only one link survives with those tumultuous times: the grotesque figure of Leto Atreides, son of the prophet Paul Muad'Dib, and now the virtually immortal God Emperor of Dune. He alone understands the future, and he knows with a terrible certainty that the evolution of his race is at an end unless he can breed new qualities into his species. But to achieve his final victory, Leto Atreides must also bring about his own downfall . . .
About the Author
---
Frank Herbert was born in Tacoma, Washington, and educated at the University of Washington, Seattle. He worked a wide variety of jobs--including TV cameraman, radio commentator, oyster diver, jungle survival instructor, lay analyst, creative writing teacher, reporter and editor of several West Coast newspapers--before becoming a full-time writer.Scott Brick first began narrating audiobooks in 2000, and after recording almost 400 titles in five years, AudioFile magazine named Brick a Golden Voice and "one of the fastest-rising stars in the audiobook galaxy." He has read a number of titles in Frank Herbert's bestselling Dune series, and he won the 2003 Science Fiction Audie Award for Dune: The Butlerian Jihad. Brick has narrated for many popular authors, including Michael Pollan, Joseph Finder, Tom Clancy, and Ayn Rand. He has also won over 40 AudioFile Earphones Awards and the AudioFile award for Best Voice in Mystery and Suspense 2011. In 2007, Brick was named Publishers Weekly's Narrator of the Year.Katherine Kellgren has recorded over 200 audiobooks and won four Audie Awards, three ALA Odyssey Honors, and eight AudioFile Earphones Awards. In 2011, Kellgren was named the Best Voice in Young Adult & Fantasy, and she won the Audie award for Best Female Narrator in both 2013 and 2014. Kellgren has also appeared onstage in London, New York and Frankfurt. She has recorded numerous plays and dramatizations of novels for the radio, including winners of the Peabody Award. She is a graduate of The London Academy of Music and Dramatic Art. In naming Kellgren a "Golden Voice," AudioFile magazine noted that she is a "marvel with accents...she is definitely a narrator to keep an ear out for." She lives in New York City. Simon Vance is the critically acclaimed narrator of approximately 400 audiobooks, winner of forty-one AudioFile Earphones Awards, and a six-time Audie recipient. He was the winner of the 2012 Audie Award for Best Male Narrator, and was named the 2011 Best Voice in Biography and History and the 2010 Best Voice in fiction by AudioFile magazine. Simon was named a "Golden Voice" by Audiofile Magazine, and Booklist Magazine named him their "Voice of Choice"
Praise For…
---
"Veterans of the entire series, narrators Simon Vance, Scott Brick, and Katherine Kellgren are so familiar and comfortable with the extensive vocabulary and world of DUNE that they effortlessly bring the many characters, philosophical discussions, and diary entries into an incisive sonic whole."—AudioFile Praise for the Dune audiobook—The First Installment in the New Multi-Cast Recordings of the Six Original DUNE novels:
"How does Herbert's text come off when read aloud? Superbly!...The listener falls under the mellow sway of these talented voices. The production values here are top-notch. The sound is crystalline...But perhaps the most impressive thing about this production is the way all the neologisms and foreign terms sound so natural and flow so easily—and consistently—off the tongues of the performers." —SciFi Weekly
"Vance imbues each character with a distinctive voice: his Duncan is a truculent Clive Owen sound-alike, while his Leto (suitably) has the stentorian tones of a self-absorbed Shakespearean actor." – SciFiDimensions
Praise for the Dune series:
"One of the monuments of modern science fiction."
—Chicago Tribune on
Dune
"Brilliant... It is all that Dune was and maybe a little more."
—Galaxy Magazine