Children of Dune (Compact Disc)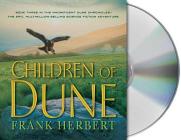 $49.95

The book is not currently in stock at our stores. Please call us for price and availability.
Description
---
Frank Herbert's bestselling science fiction series of all time continues In this third installment, the sand-blasted world of Arrakis has become green, watered and fertile. Old Paul Atreides, who led the desert Fremen to political and religious domination of the galaxy, is gone. But for the children of Dune, the very blossoming of their land contains the seeds of its own destruction. The altered climate is destroying the giant sandworms, and this in turn is disastrous for the planet's economy. Leto and Ghanima, Paul Atreides's twin children and his heirs, can see possible solutions but fanatics begin to challenge the rule of the all-powerful Atreides empire, and more than economic disaster threatens...
About the Author
---
Frank Herbert was born in Tacoma, Washington, and studied at the University of Washington, Seattle. He worked a wide-variety of jobs--including newspaper reporter and editor, political speechwriter, university professor, TV cameraman, radio commentator, oyster diver, jungle survival instructor, lay analyst, and creative writing teacher--before becoming a full-time writer. His first sf story was published in 1952 but he achieved fame more than ten years later with the publication in Analog of "Dune World" and "The Prophet of Dune" that were amalgamated in the novel Dune in 1965.Scott Brick first began narrating audiobooks in 2000, and after recording almost 400 titles in five years, AudioFile magazine named Brick a Golden Voice and "one of the fastest-rising stars in the audiobook galaxy." He has read a number of titles in Frank Herbert's bestselling Dune series, and he won the 2003 Science Fiction Audie Award for Dune: The Butlerian Jihad. Brick has narrated for many popular authors, including Michael Pollan, Joseph Finder, Tom Clancy, and Ayn Rand. He has also won over 40 AudioFile Earphones Awards and the AudioFile award for Best Voice in Mystery and Suspense 2011. In 2007, Brick was named Publishers Weekly's Narrator of the Year.Simon Vance is the critically acclaimed narrator of approximately 400 audiobooks, winner of forty-one AudioFile Earphones Awards, and a six-time Audie recipient. He was the winner of the 2012 Audie Award for Best Male Narrator, and was named the 2011 Best Voice in Biography and History and the 2010 Best Voice in fiction by AudioFile magazine. Simon was named a "Golden Voice" by Audiofile Magazine, and Booklist Magazine named him their "Voice of Choice"
Praise For…
---
"Simon Vance anchors this full-cast production. He is engaged with the characters and the complex plot. His presentation of the many characters is skillful, and the narrative passages never lag. Vance has a serious but light touch…" - AudioFile
Praise for
Dune
:
"One of the monuments of modern science fiction."—
Chicago Tribune
on
Dune
"Unique…I know nothing comparable to it except The Lord of the Rings." —Sir Arthur C. Clarke on
Dune
"A portrayal of an alien society more complete and deeply detailed than any other author in the field has managed...a story absorbing equally for its action and philosophical
vistas.... An astonishing science fiction phenomenon."—
The Washington Post
on
Dune
"Powerful, convincing, and most ingenious."—Robert A. Heinlein on
Dune
"Herbert's creation of this universe, with its intricate development and analysis of ecology, religion, politics, and philosophy, remains one of the supreme and seminal achievements in science fiction."—
Louisville Times
on
Dune