The Adventures of Billy and Penny (Hardcover)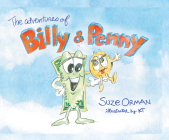 $14.99

The book is not currently in stock at our stores. Please call us for price and availability.
Description
---
#1 New York Times best-selling author and world-renowned financial expert Suze Orman makes her children's book debut in this story of a one-dollar bill named Billy and a penny named Penny.

When Billy and Penny realize that the family they live with are overlooking their true worth, they decide to make their presence count by going missing. When the pizza man arrives, the mother enlists the help of her two children and their piggy bank in order to pay for dinner. When Billy and Penny make their return, the family show their appreciation for the money that saved the day. Orman and wife and illustrator Kathy Travis team up for a classic and family-friendly tale of counting every penny and making every penny count.
About the Author
---
Suze Orman has been called a force in the world of personal finance and a one-woman financial-advice powerhouse by USA Today. She is a two-time Emmy Award winner, the most successful fund-raiser in the history of public television, and the author of nine consecutive New York Times bestsellers. TIME magazine has twice named her one of the most influential people in the world. Suze has helped millions of people across the globe transform their lives when it comes to money. She is a firm believer that a financial problem can never be solved with money. As she says, "One has to go within to see why they are doing without."