Animorphs Retro Tin Set (Multiple copy pack)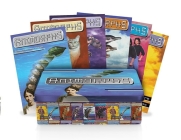 $41.94

The book is not currently in stock at our stores. Please call us for price and availability.
Description
---
The first six books of the beloved Animorphs series, all with their original covers in an exclusive collectible retro tin!Save the world all over again with the Animorphs! Revisit the wildly popular series by K.A. Applegate with this exclusive retro collection! It features books 1-6, The Invasion, The Visitor, The Encounter, The Message, The Predator, and The Capture-all with their original covers in a collectible tin case.
About the Author
---
Scholastic Inc. is a global publishing and education company whose mission is to encourage the intellectual and personal growth of all children, beginning with literacy.
Praise For…
---
Praise for Animorphs:
"[The Animorph books] were dark and witty and thrilling, endlessly inventive and achingly sad. They made me laugh out loud andcry myself to sleep. I've been thinking about them for twenty years." -- The Paris Review
Engaging ... impressive." -- School Library Journal
"There's clearly something about Animorphs that has kept kids enthralled." -- Publishers Weekly
Praise for Animorphs:
"[The Animorph books] were dark and witty and thrilling, endlessly inventive and achingly sad. They made me laugh out loud andcry myself to sleep. I've been thinking about them for twenty years." -- The Paris Review
Engaging ... impressive." -- School Library Journal
"There's clearly something about Animorphs that has kept kids enthralled." -- Publishers Weekly