First Little Readers: Guided Reading Levels E & F (Classroom Set): A Big Collection of Just-Right Leveled Books for Growing Readers (Multiple copy pack)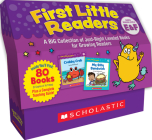 $92.99

Not currently on our shelves, but available to order (usually within a few days)
Description
---
Motivate growing readers with these super-engaging, 16-page storybooks correlated with guided reading levels E & F! Inside this sturdy storage box, you'll find 80 books (5 copies of 16 titles) plus a big teaching guide packed with lessons, tips, and reproducibles. Each book features simple text, decodable words, strong picture cues, and one to five lines of text per page to help ensure all learners "step up" to the next level.
Includes 5 copies each of 16 16-p books + 32p TG.
About the Author
---
Liza Charlesworth is the editor and author of hundreds of books and teaching materials including Nonfiction Phonics Readers, AlphaTales, First Little Readers, Just-Right Readers, Science Vocabulary Readers, Buddy Readers, First Little Comics, and Sight Word Stories. She is the recipient of 12 Ed Press awards and three Teacher's Choice honors. Charlesworth lives in New York City with her husband and twin sons, who provide daily inspiration.