First Little Readers: Guided Reading Level D (Classroom Set): A BIG Collection of Just-Right Leveled Books for Beginning Readers (Multiple copy pack)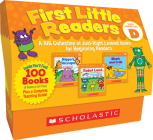 $92.99

The book is not currently in stock at our stores. Please call us for price and availability.
Description
---
Jumpstart your early reading program with this big collection of motivating storybooks correlated with Guided Reading Level D. Inside this sturdy storage box, you'll find 100 books (5 copies of 20 titles) plus a 32-page teaching guide packed with lessons, tips, and reproducibles. Each book features simple text, decodable words, strong picture cues, and two to four lines of text per page to support readers with just a little experience under their belts.
Includes
• 100 full-color, 8-page books (5 copies of 20 titles)
• 32-page teaching guide
• Sturdy storage unit
About the Author
---
Liza Charlesworth is the editor and author of hundreds of books and teaching materials including Nonfiction Phonics Readers, AlphaTales, First Little Readers, Just-Right Readers, Science Vocabulary Readers, Buddy Readers, First Little Comics, and Sight Word Stories. She is the recipient of 12 Ed Press awards and three Teacher's Choice honors. Charlesworth lives in New York City with her husband and twin sons, who provide daily inspiration.