Pancakes for Breakfast (Paperback)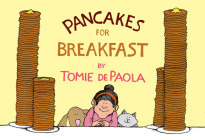 $7.99

On Our Shelves in the last 24 hours. Click to see a specific store location's stock.
Description
---
Missing ingredients and mischievous pets create one humorous complication after another for a little old lady determined to make pancakes for breakfast in this larger-sized, color-enhanced edition of Tomie dePaola's wordless picture book classic. Pancakes for Breakfast is a Common Core exemplar text for Grades K–1.    
About the Author
---
Tomie dePaola is the author and/or illustrator of more than 250 books for children. He receive a Caldecott Honor for Strega Nona and a Newbery Honor for 26 Fairmont Avenue. He is also the recipient of the American Library Association's Laura Ingalls Wilder Award for his substantial and lasting contributions to children's literature. He lives in New London, New Hampshire. Visit his website at www.tomie.com.