Colors of Awesome!: 24 Bold Women Who Inspired the World (Board book)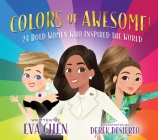 $9.99

On Our Shelves in the last 24 hours. Click to see a specific store location's stock.
Description
---
From Kamala Harris' white pantsuit to Judy Garland's ruby slippers to Mamie Johnson's blue baseball uniform, powerful and inspiring women from throughout history have proved that "awesome" comes in all colors!

A Is for Awesome provided an ABC of amazing women from throughout history. 3 2 1 Awesome counted down some of their most amazing accomplishments. Now with their third concept board book original, Colors of Awesome!, the New York Times-bestselling dynamic duo Eva Chen and Derek Desierto pairs groundbreaking feminist icons with all the colors of the rainbow and beyond.

With Desierto's bold and vibrant art, Eva fans and readers of all ages will be transported through history in style.
About the Author
---
Eva Chen is a first-generation Chinese-American who grew up in New York City. She blames her deviation from pre-med at Johns Hopkins University on a love of fashion and beauty instilled in her by her mother, whose perfect bob and lipstick made a permanent imprint on her impressionable young mind. Previously the editor in chief of Lucky, Eva has also written for ELLE, Vogue, Teen Vogue,Vogue China, the New York Times, and the Wall Street Journal. She is currently the head of fashion partnerships at Instagram, where she is guilty of the occasional duck-face selfie. Eva lives in New York City with her husband and two children. She is the author of Juno Valentine and the Magical Shoes, A Is for Awesome, and Juno Valentine and the Fantastic Fashion Adventure.

Derek Desierto, illustrator of Juno Valentine and the Magical Shoes, is a Vancouver-based illustrator, designer, and overall nice guy from a nice family. His animation work has been recognized by the Ottawa International Animation Festival, the National Cartoonist Society, and 9 Story Media Group. Currently, he is living the dream as a freelance artist for animated TV shows and picture books. His ultimate goal in life is to meet Oprah and become one of her Favorite Things.
Praise For…
---
Praise for I Am Golden:

"[A] richly metaphoric celebration of Chinese American identity ... Luminous, gently textured digital art by Diao includes thoughtful, recognizably Chinese cues that add further dimension ... A loving, affecting tribute to how children of immigrants can serve as bridges and torchbearers for their communities." —Publishers Weekly, starred review

"From the outset, this gorgeous picture book exudes joy and celebration of identity. Through dazzling illustrations, Diao brings to exuberant life best-selling Chinese American author Chen's message of finding love and power in one's differences. ... This powerful and uplifting story captures [Chinese] American joy and is a definite must-read." —Booklist, starred review

"Perfectly matched text and illustration ... Every gorgeous spread in Chen and Diao's co-creation maintains this exceptional and precise text and art symbiosis. ... Chen and Diao weave the inherent value of the child throughout, aiming to encourage Asian American children to claim, 'I am golden.'" —Shelf Awareness

"An uplifting story that seeks to teach Asian American children about self-love and validation." —People

Praise for Colors of Awesome!:

"Vivid and highly engaging ... will dutifully pique the interest of young readers and can serve as an invitation for exploring more about the lives of the thought leaders and changemakers featured here. ... Recommended for picture book collections and collective biography shelves." —School Library Journal

Praise for Roxy the Last Unisaurus Rex:

"Eva Chen has really hit the mark with her Juno Valentine series, but is branching out into children's literature in a huge way with Roxy the Last Unisaurus Rex...It's not often you can find a children's book that pleases both the child and the parent reading it 800 times, but ROXY feels like a good fit. And any picture book that makes me want to wallpaper my house with its pages is more than OK by me." —Romper

Praise for 3 2 1 Awesome!:

"Counting down from 20, this charming board book profiles strong contemporary and historical women ... The choices are solid and represent a diverse range of women and professions." —Booklist

Praise for A Is for Awesome!:

A Publishers Weekly Bestseller!

"That theme of swinging for the fences and going for it is the undercurrent in this book. Even though it's about how they're all awesome, the real undercurrent is, 'Look at all these people who are superheroes who are just like you.' I try to tell that to my daughter." —Hasan Minhaj, in Huffpost

Praise for Juno Valentine and the Magical Shoes:

A New York Times Bestseller!

Featured in Oprah Magazine's Holiday Gift Guide
Recommended by Rachael Ray as the perfect holiday gift
Featured in InStyle's Holiday Gift Guide

"[A] fresh take on a fairy tale." —Forbes.com

"Those who are 3, 13, or 30 can all enjoy the book." —Vogue.com

"Not only does this book pay homage to some of history's greatest women, it also gives them snaps for their fashion sense." —Romper

"Kids need more books like this." —HelloGiggles

"[This book is] not going to drop without a bang." —Refinery29

"[A] charming story." —MyDomaine

"Chen proves that the accessory can actually provide an important teachable moment for young kids." —WhoWhatWear