Armor of the Iowa-Class Battleships (Hardcover)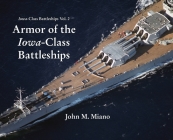 $80.00

Not currently on our shelves, but available to order (usually within a few days)
This book cannot be returned.
Description
---
Armor of the Iowa-Class Battleships is the second book in this series on these warships. Devoting a single, large volume to this subject has resulted in the most detailed book on a warship ever published. The book uses over 600 original plans, new scale drawing, renderings, and photographs to document the armor protection of the Iowa-class battleships. There are measured drawings showing the dimensions of each armor plate on the ship. The book explains how the armor was assembled and illustrates the supporting structures for the armor. Differences among the various ships are shown. Because this book relies on original plans and ship measurements, it corrects many errors about the Iowa-class that circulate in print.