Walk Together Children, Black American Spirituals, Volume One (Hardcover)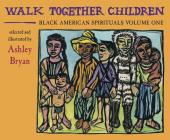 $21.95

The book is not currently in stock at our stores. Please call us for price and availability.
Description
---
Walk Together Children is a collection of spirituals songs brought to life from award winning children's book author and illustrator Ashley Bryan. Lovingly updated and with a foreword from Dr. Henrietta Mays Smith, recipient of the 2011 Coretta Scott King–Virginia Hamilton Practitioner Award for lifetime achievement, this edition includes such favorites as "He's Got the Whole World in His Hands;" "Swing Low, Sweet Chariot;" and "When the Saints Go Marching In." Each song is accompanied by linocut illustrations that capture the strength and spirit of the music.
About the Author
---
Ashley Bryan is an acclaimed author, artist, and educator who has earned numerous honors, including the Arbuthnot Award for lifetime achievement, the Regina Medal, the Laura Ingalls Wilder Award, and several Coretta Scott King awards and honors. He lives in Little Cranberry Island, Maine.
Praise For…
---
"These books of Spirituals lovingly notated and illustrated by Ashley Bryan should form the heart of any personal and library collection of books for children. [...] The Spirituals remind us that life is hard but hope is always there, a message that children need and adults should cherish. Ashley Bryan's strong illustrations make the message of the Spirituals strikingly visible to every eye." —Amy Kellman, children's literature consultant, Carnegie Library of Pittsburgh


"Ashley Bryan's collections of Black American Spirituals for children will ensure that another generation will become aware and familiar with these sacred and timeless songs. [...] Thank you, Ashley, for producing and preserving these wonderful songs, and inviting children to 'get on board, little children, there's room for many a-more.'" —Darwin Henderson, Ed.D, University of Cincinnati


"The genius of his artwork reflects the strength of the songs, their historical aspect and their universality. The musical presentation allows children and families immediate access to the Spirituals, whether in singing or playing the music. The books exude joy, peace, pathos and love. Hallelujah for Ashley!" —Jane Botham, former coordinator of children's services, Milwaukee Public Library and Barbara Brown Lee, chief educator, Milwaukee Art Museum

"Alazar Press presents handsome new editions of Ashley Bryan's first two books of spirituals, long out of print. Each title presents two dozen selections, pairing striking linocut illustrations with lyrics and music." —Joy Fleishhacker, School Library Journal

"Bryan's seminal collections of slave songs and 'sorrow songs' (originally published by Atheneum in 1974 and 1982, respectively) have been reissued, updated, and beautifully redesigned with a new introduction by Bryan and a foreword by Dr. Henrietta Mays Smith." —Elissa Gershowitx, the Horn Book

"This show, called 'Painter and Poet,' from August 3 to November 25, will feature the art of Ashley Bryan. Some of the art shown is from both volumes of Black American Spirituals published by Alazar Press and distributed by IPG." —Portland Museum of Art