Nbla Biblia Ultrafina, Letra Grande, Colección Premier, Azul Marino: Edición Limitada (Large Print / Leather)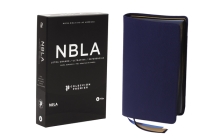 Email or call for price
Out of Print. This book is not available to order. If you would like to double check please give us a call.
Description
---
Disfruta de la belleza eterna y la durabilidad en tu Biblia durante los a os venideros
Las Biblias de la Colecci n Premier combinan una fina artesan a con la m xima legibilidad y portabilidad. Est n encuadernadas en la m's suave y fina piel de cabra disponible y presentan acabados de calidad como el hermoso arte del dorado, el duradero revestimiento de los bordes y tres gruesos marcadores de cinta. La NBLA Biblia Ultrafina, Colecci n Premier con letra grande combina estas elegantes caracter sticas con el exclusivo tipo de letra NBLA Comfort Print(R) de Editorial Vida para crear una Biblia f cil de leer, f cil de llevar y que durar toda la vida.
El manual del ministro para las ceremonias incluye:
La santidad del matrimonio
El bautismo o la recepci n de nuevos miembros
La Santa Cena
La dedicaci n de los ni os
Acci n de gracias por una quincea era
Ministerio a los enfermos
La dedicaci n del templo
La presentaci n de l deres de la iglesia local
La ordenaci n de ministros
Bodas de plata
Bodas de oro
Las caracter sticas de la Biblia incluyen:
El hermoso arte del dorado con piel de cabra (azul debajo de plata)
Solapas generosas
Gu a para evangelizaci n personal
Referencias, Tabla de pesas y medidas
3 Cintas marcadoras
Plan de Dios para el hombre
NBLA Ultrathin Bible, Premier Collection
Enjoy the timeless beauty and durability in your Bible for years to come
The Premier Collection Bibles combine fine craftsmanship with maximum readability and portability. They are bound in the softest and finest goatskin available and feature quality finishes such as beautiful gilding, durable edge coating, and three thick ribbon markers. The NBLA Ultra-thin, Large Print Premier Collection Bible combines these elegant features with Editorial Vida's exclusive NBLA Comfort Print(R) font to create an easy-to-read, easy-to-carry Bible that will last a lifetime.
The minister's manual includes the following ceremonies and more:
Holiness of Marriage
Baptism o Reception of new members
The Holy Supper
Children's dedication
Thanksgiving for a Quincea era
Ministry to the sick
Dedication of the church
Introduction of local church leaders
Ordination of ministers
Silver Jubilee
Golden Jubilee
Bible features include:
Goatskin and art gilded border (blue under silver)
Generous flaps
Guide for personal evangelization
References, Weight and Measurement Table
3 Marker Ribbons
God's Plan for Man